About Us
---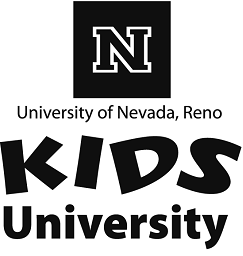 Contact us at KIDSU@unr.edu or call (775) 784-4046
KIDS University hosts a wide-range of youth camps during the summer and school breaks throughout the year. Choose from themed, weeklong camps designed to incorporate the academic STEAM components — science, technology, engineering, arts and math — with a healthy dose of fun!
Camp Themes
---
STEM

---

KIDS U campers are the next generation of innovators and problem solvers. Explore real-world problems through STEM-focused activities.

Camps may include:
Rockets, Chain Reaction, Chemistry, CSI, Cadet Rocket, Earth-Shakin' Science, Health Care Heroes Camp, In a Flash, Kids in Space, KIDS U Zoo, Mad Science, Mischievous Math, Totally Amazing Insects, 3D Modeling Workshop, Coding from Scratch and Web Design!

Creativity

---

Discover camps that are as fun and imaginative as they are educational. We give campers the opportunities to explore and develop their talents while creating amazing memories.

Camps may include:
Creative Dance, Acting, Painting and Culinary Arts!

Sports and Fitness

---

It's important for kids to stay active. KIDS U camps provide a variety of different sports and games for kids to participate in. Campers will improve their skills while having a great time.

Camps may include:
Basketball, Swimming, Volleyball, Baseball, Football, Cheerleading, Track, Rock Climbing, Jump Roping, Soccer and Wacky Games!

Culture and Language

---

Explore the world and learn about different countries and languages. Campers can go back in time to discover ancient civilizations and learn about American history. Experience being a writer in our fun-filled camps.

Camps may include:
Five Cultures — Five Dances, It's All Greek to Me, Passage to Ancient Egypt, Viking Ventures, Se Habla Español, Groovin' in the '60s and the Write Stuff!
Camp Information
---
Useful Links
---
<!div class="col-md-4 col-sm-12">
Counselor Links
---
Quick Links
---